Books
United Front: Ship's Log 2021
Introduction

This is a planner like none other. It's packed with dozens of selves-help & coaching tools, bullet-joural-like flexibility, and it's all made for plural, multiple & DID systems. This plural-centric planner provides places for your& entire "Ship's Crew" to log, plan, and deploy missions while adventuring through human space.
A stand-alone volume, but also designed to pair with the upcoming book United Front: Adventurers, this is a tool that will help support your plural or multiple system whether you prefer planning or logging. Work on system-wide issues together, and craft your own amazing internal community.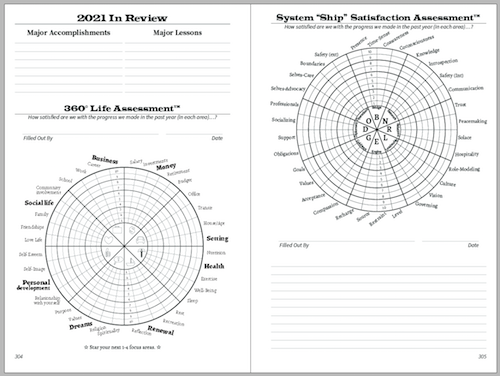 Monthly internal & external satisfaction assessments to help spot areas in need of attention
Track internal & external roles, goals & projects
System safety plans
Trust, communication, mapping & self-care tips
Information on quality of life, developing better spoons
And much much more…
Order Now!
Our Planner Comes Home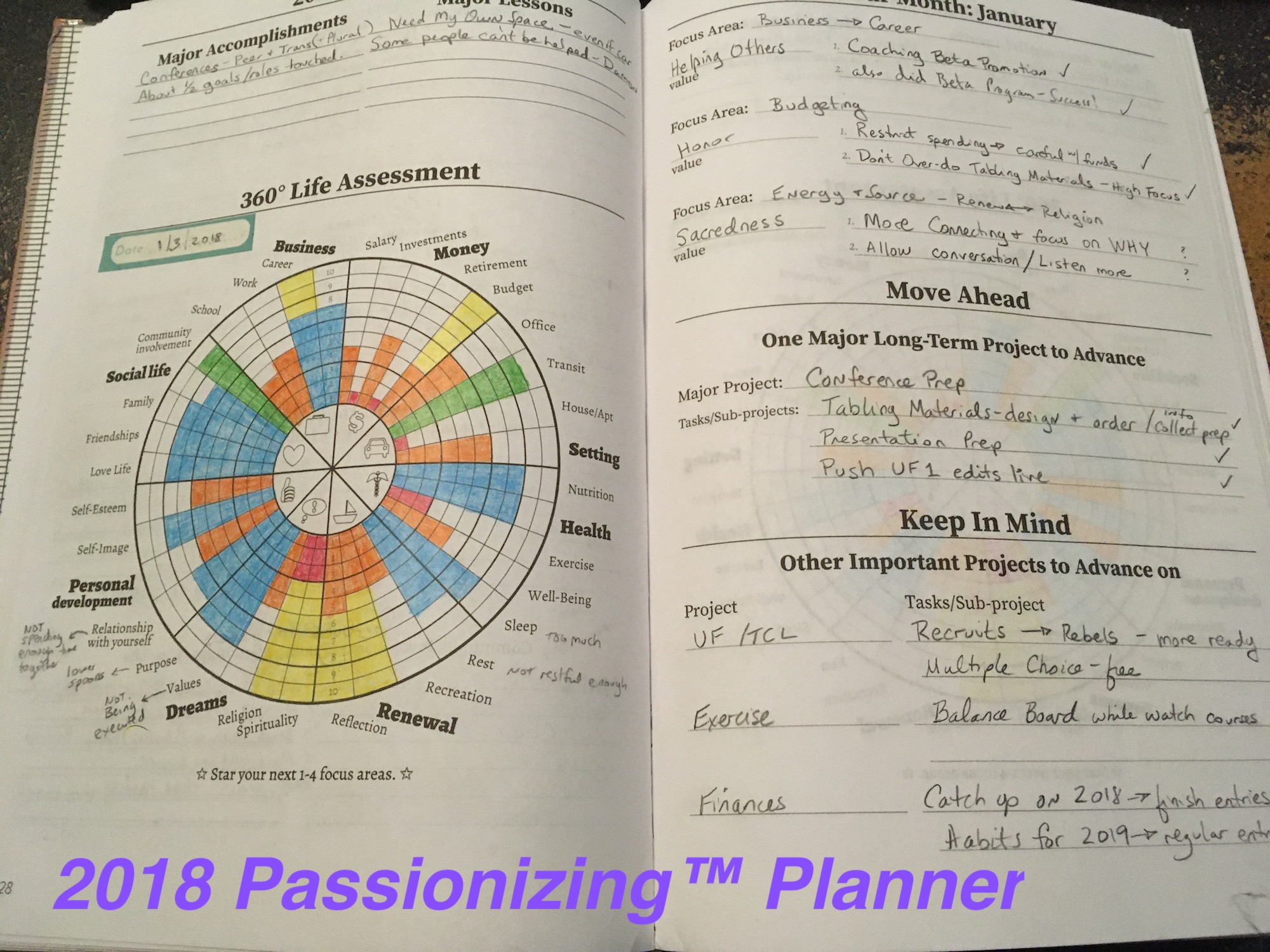 After years of creating and designing the "Passionizing™" planners, and feedback from several plural systems over the past couple years, we can say this planner works for plurals. Not all plurals, not every plural or every situation. Of course not. But it's flexible, helpful, and builds good habits.
The idea of the "Ship's Log" planner is to both provide structure & flexibility for your& officers & crew in how to manage your& human mecha spaceship, and keep on top of your& shared external life as well as keeping an eye on internal system operations.
This isn't a schedule book, but y'all can use it that way. Y'all can also use it to plan ahead. Or — y'all can use it to track what has already happened. Y'all are not locked in.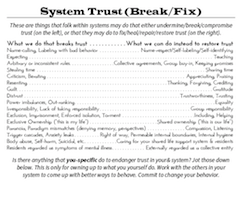 This is a coaching planner that transforms exercises that are helpful for singular folk into group exercises that are helpful for the management of plural systems, as well as providing many powerful tips, tools, cheatsheets and exercises unique to plural systems. Be your& own group coach; keep track of system progress, planning, & reflection.
Use as many or as few of the features as y'all like; there's some tips on how y'all can use the Ship's Log below, & suggestions for how to go about coaching yourselves into creating a plan (or tracking what happens) each week & month.
This version (2021-1-1.00) has some new plural-friendly changes over the 2020 Passionizing™ planner. (Note there's a growing list of errata below that will be corrected for 2022.)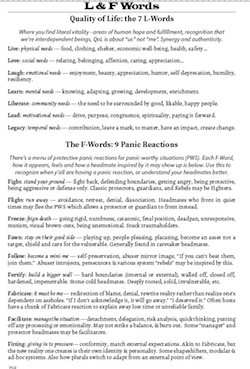 We prefer total transparency: our modest mark-up on the products is the same across all items: about $5 (minus fairly minor vendor fees and payment processing fees etc.) per format — so the PDF is $5, for example. We make $4 (or thereabouts) per sale after merchant fees. So we're giving advice below based on having handled the various products, not based on us making more money off one or the other version.
We personally really really prefer the hardcover version of the planner because it takes wear-and-tear and roughhousing. But we just received the coil-bound Ship's Log and we're quite impressed with it. We decided not to do a perfect-bound softcover, and now we're certain it's the right choice. Both the hardcover and the coil-bound lay flat, which we feel is essential for a planner you're going to actually use.
One year we went sticker-happy in our planner, and the hardcover took it in relatively good stride, but if y'all are a washi-tape weilding affictionado with sticker packs and so on — the coil-bound version may take the added thickness of each sheet a little better. One issue we have with the coil-bound though is that if we're handling the planner every day, turning back to our quarterly or annual planning pages, or to our safety plan, etc. — it might lose some pages along the way (nothing some washi tape wouldn't fix though!).
However, we are already 100% certain that we Crisses are not kind to our planners. We dogsit, we travel, we will take it out of the house to therapy appointments, or take it camping or hiking, wherever we go, our planner is likely to go. And we keep past planners within arms reach at our desk and refer back to past planners fairly frequently, so they need to last years after we've done using them as well. We need the hardcover.
Not everyone will drag their planner on the road with them, or can afford the increase in price — so there's the coil bound option and the PDF option so that folk can choose. The coil-bound will have to be handled more carefully, but the price is more reasonable. And if y'all have a good app for filling in PDF forms, or want to use your own bullet journal or other journals outside the UF system with some of the UF exercises, the PDF can be used instead of a paper planner (or y'all can print out some of the exercises and use them).
We would love more feedback to continue to tweak the content. What works? What do you hate? What do you find that you neglect & never use, or you forget to use? What's wasted space? How can we make it better? How can we make this more fun?
Play with your& planner, experiment with it, but most of all — USE it. Do with it whatever you'd like — please let us know what happens & how it works out so we can improve it next year. Life is a work-in-progress, so is a life-journal.
We would love photos of how folk are using it, too!
Many thanks & blessings,
Criss Xes
Tips for using your United Front: Ship's Log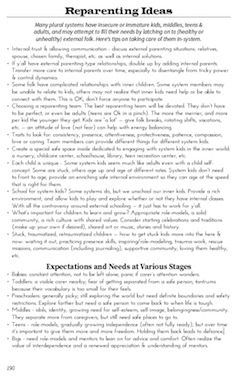 Setting up your& journal: y'all can start playing with it as soon as y'all get it. There's plenty front-of-planner exercises to keep y'all busy planning for 2021 before it even starts.
At the very start of the planner there's a "Contents" page — we left that somewhat ambiguous on purpose. Y'all can use it as an index/table of contents for events or important pages in the book as the year progresses (note, there's also an Index at the back of the book; y'all don't have to index the exercises and major sections of the book — we've done that for you!) — but y'all could also use this page to create a headmate list, a subsystem list, and so on.
Here's some of the other things we've discovered that might help others customize their Ship's Log:
Reposition-able "binder" style tabs to mark the current week for easy reference.
Use craft glue and a ribbon to glue a bookmark into the book's spine (glue towards the outside of the spine. Only works on the hardcover.
Use washi tape to mark holidays & special events. May make the paperback too "bumpy" (yes, we know from experience!)
Use the inside cover areas to keep additional quick-reference information. We had a bus schedule there.
A flat hairband or rubber band to hold extra papers to the inside front &/or back cover of the hardcover book (headmaps?) — we keep a price list for our Fiverr business for example.
If you use marker on the cover of the book, cover it with clear packing tape (even "permanent marker" rubs off eventually). Especially helpful if you AND your partner system have the same planner.
Reposition-able flags for repeating reminders. We use signature flags for recurring reminders (need to take a medication for 30 days? Just use a flag! Move it to tommorrow when you take the medication), monthly reminders, & so on. It's easy to move them to the next date to "do thing." We use these to mark the day to do our assessment (last day or first day of month, whenever you like), & then move it to next month to remind us.
We love stickie notes of all sizes. Makes it really easy to move cheat sheets to the next planner when we put our "life crib notes" on them.
Download the US government document on creating safety & crisis plans called "Action Planning for Prevention & Recovery" to go along with the Ship's Log section on "System Safety Plans" — there's a guide in the planner to tell you which instructions from the PDF go with which United Front Ship's Log 2021 Dated Planner exercises.
The Final Index
5 Principles of Multiplicity 311
360° Life Assessment Satisfaction Survey 32
360° Life Assessment™ Detail 33
2020 In Review 40
2021 In Review 304
Annual Planning 14
April 107
August 191
Batten the Hatches 13
Better Spoons: Loving What Y'all Do 278
Better Spoons: Panic vs. Passion 86
Broadcasting Honorable Mentions 66
Character Strengths & Virtues (CSV) 21
Communication Ideas 66
Communication Mediums 66
Daily Pages Ideas 6
Daily Pages Key 6
December 279
Example Values 20
Expectations and Needs at Various Stages 190
February 67
Foul Waters 11
F-Words: 9 Panic Reactions, The 258
Goals, Projects, Tasks 170
"Good Thoughts" Journal Prompts 234
Gratitude List 42
Group Affirmations 234
House Rules 150
Inner World Communication Tips 66
Introduction to Shared Values 21
January 43
January 2022 299
July 171
June 151
L & F Words 258
Life List 14
Listening 66
Mapping Exercises 126
March 87
May 127
Meeting Agenda Ideas 106
Month In Review 30
Monthly Layout 30
Monthly Layout Key 31

Monthly Life Assessments 30, 32
Month, Plan Your 30
Navigating Dangers 12
November 259
October 235
Plan Your Month 30
Positive Selves Talk 234
Quality of Life: the 7 L-Words 258
Quarterly Plan 2021 16
Quarterly Plan 2022 306
References 310
Reparenting, Expectations and Needs at Various Stages 190
Reparenting Ideas 190
Roles & Goals, external 24
Roles & Goals, internal 28
Roles: Value & Goal Inventory 30
Roles & Values, external 22
Roles & Values, internal 26
"Safe Water Mark" 9
Selves-Care Menu 39
Selves-Care Menu Intro 37
Selves-Help Ideas 170
September 215
Staying in "Ship Shape" 10
System Mapping Ideas 126
System Rewards 298
System Safety Plan 8
System Trust (Break/Fix) 214
System Vision 7
United Front 6
United Front Process Overview 5
United Front - System "Ship" Satisfaction Survey™ 32
United Front System "Ship" Satisfaction Survey™ Detail 35
Values, Example 20
Values, Introduction 21
Weekdays 37
Weekly Layout 37
Weekly Layout Key 38
Weekly Planning 37
Wishlist 15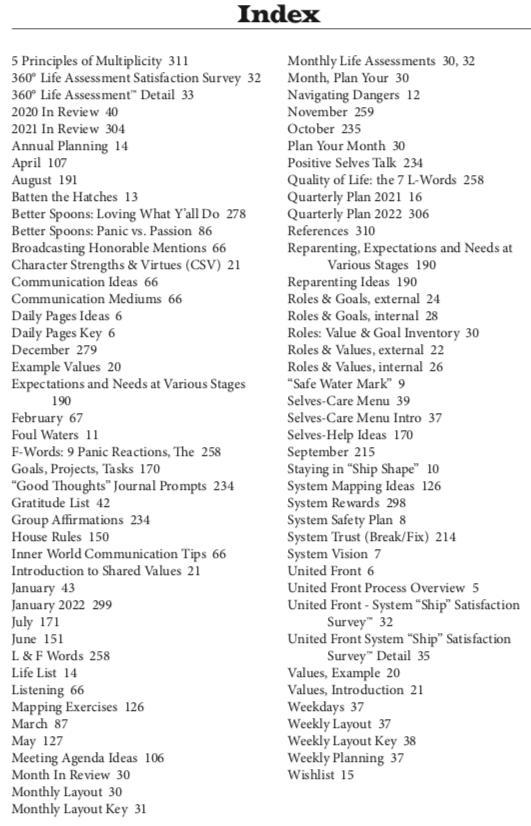 Errata
Ship's Log 2021-1.00
Extra notes pages for the coil-bound. We've always found the extra blank pages added to a perfect-bound softcover or hardcover book at the start and end to be useful — the coil bound gets right to business with no added leading or trailing pages. This is bothersome in many ways, as there's no title-page or index buffer between the cover and the book, but also less extra space for adding your own "stuff" to the book at the start and end, which we've always used. Next time we create a coil-bound version we'll add bonus "Notes" pages to fill this purpose.
page 8 - middle of the page the line should be Developing a Wellness Toolbox - replace Toolkit with Toolbox
page 21 - missing (m) marker on &/or addition of following entries: prudence, forgiveness, modesty, self-control
page 150 - "House Rules" should really be "Articles of Agreement" in alignment with United Front books. References to the page should also be changed (p. 31 & 107 and the index on 313).
1 Don't forget to look for Lulu coupons! ⇑
2 Don't forget to look for Lulu coupons! ⇑