Books
United Front: Ship's Log 2023, now available
Planner Image Gallery including User Submitted Images
|2023 Dated Planner
|Undated Planner 2 (2022+)
|Undated Planner 1 (2021+)
|2023 Dated Planner - Daily Page
|Safety Plan (2022)
|Safety Plan (2023) update
|2023 Page Thumbnails
|2022 Selves Care Menu
|2022 Weekly Log Key
Check out the 2022 Planners Unboxing Video on YouTube Here!
United Front: Ship's Log 2023 Dated and UNDATED Planners
This is a planner like none other. Crafted for plural, multiple & DID systems, with selves-help & coaching tools, bullet-joural-like flexibility. This plural-centric planner provides places for your& entire "Ship's Crew" to log, plan, and deploy missions while adventuring through human space.
A stand-alone volume, but also designed to pair with the Ship's Log Planner Course or United Front book bundle, especially United Front: Adventurers, this is a tool that will help support your plural or multiple system whether you prefer planning or logging. Work on system-wide issues together, tackle life's adventures as a team, and craft your own amazing internal community.
Monthly "Sensor Log" to help spot areas of your& shared life (internal & external) in need of attention
System Safety Plan (no purchase necessary: our free instructional System Safety Course is available here)
Ample notes pages for system maps, headmate lists, internal meeting notes
Daily timeline to track switches/fronts, events, appointments, etc.
Examples to help your system figure out how they'd like to use the planner
And much much more…
Order Now!
2023 Dated Planner
Undated Planner
This is based on the 2022 dated planner (Version 1) or 2023 dated planner (Version 2), with more than just the dates stripped: some instructions & examples are tweaked, placement of "monthly" assessments is moved to the front of the book for more flexibility on how you use the weekly pages, there's 54 "weeks" worth of undated daily pages, etc. — this can help folk who want to use their planner intermittently, with a different calendar system, in a language other than English, etc.
Version 2: If you have Version 1 and want a new cover, more cheat sheets, or would rather buy the newest/latest/greatest version…Conveniently numbered on the spine of the hardcover, too.
Our Planner Comes Home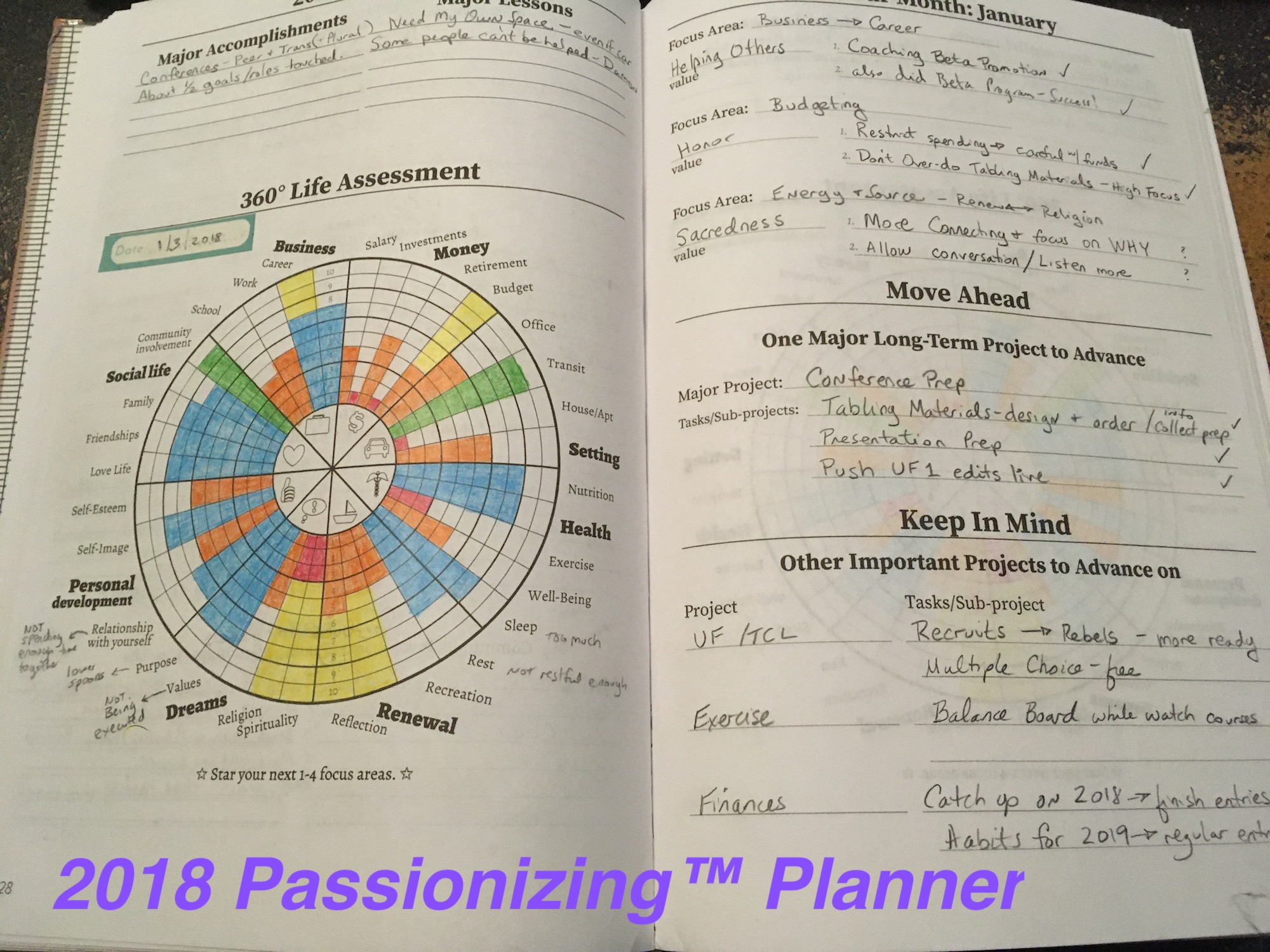 After years of creating and designing the "Passionizing™" planners, and feedback from several plural systems over the past couple years, we can say this planner works for plurals. Not all plurals, not every plural or every situation. Of course not. But it's flexible, helpful, and builds good habits.
What Time-Management System Does it Use?
There are a lot of ways to time-manage. The only one that works is the one you& actually use. In that way, all time-management processes can be effective, and we attempt to teach folk how to come up with something that works for them rather than push folk into any particular system.
The idea of the "Ship's Log" planner is to both provide structure & flexibility for your& officers & crew in how to manage your& human mecha spaceship, and keep on top of your& shared external life as well as keeping an eye on internal system operations.
This isn't a schedule book, but y'all can use it that way if that's what works for y'all. Y'all can use it to plan ahead. Or — y'all can use it to track what has already happened. Y'all are not locked in to any particular way to track or manage your& time. We do a blend of both — jotting down what we plan to do, and jotting down things that we accomplished. Our companion system mostly uses the log as a log of what has happened already, rather than planning ahead.
Flexible By Design
Y'all can use as many or as few of the features included in the planner as y'all like. For example y'all can meal plan or meal track in the planner, but we keep the labels for that as unobtrusive as possible so y'all can repurpose those lines to something else if y'all want. See the tips on how y'all can use the Ship's Log below, & suggestions for how to go about coaching yourselves into creating a plan (or tracking what happens) each week & month. The planner itself includes many tips and tricks on the instruction and example pages.
How Much Profit Are We Making?
We prefer total transparency: our modest mark-up on the products is $4 for print versions (as of current exchange rates in Aug 2022) and $5+ (due to sliding scale) on the electronic versions. Thus we make $4-5 (or thereabouts) per sale after merchant fees, before income tax & self-employment tax.
If anyone cannot afford the PDF version, please let us know. We don't want money to stand in the way of plurals getting help they need. We have our own needs and expenses, and put a lot of time, thought, and development into these products, so we put a modest price tag on them to reflect that. However, we would really really rather y'all have the help you& need than us make money, hence the low profit margin to keep this affordable. PLEASE ask if y'all need assistance. Our Patreon supporters are there to help us with "scholarship" offerings etc. — so don't feel bad. They'd love to hear that we were able to give out free copies of our PDF because of their support.
What are the tangible differences between the hardcover vs. coil-bound softcover?
We personally prefer the hardcover version of the planner because it takes wear-and-tear and roughhousing. We are clumsy and not gentle on our belongings.
We also have the coil-bound Ship's Log and we're quite impressed with it. We decided not to do a perfect-bound softcover, and believe it was the right choice.
Both the hardcover and the coil-bound "lay flat", which we feel is essential for a planner you're going to actually use. The coil can be folded back on itself to show only one page; you can't do that with the hardcover. But also note that doing that can push pages out of the end of the coil.
One year we went sticker-happy in our planner, and the hardcover took it in relatively good stride, but if y'all are a washi-tape weilding affictionado with sticker packs and so on — the coil-bound version may take the added thickness of each embellished sheet a little better.
We are concerned that if we used the coil-bound and we were handling the planner every day, turning back to our quarterly or annual planning pages, or to our safety plan, etc. — it might lose some pages along the way (perhaps some washi tape could fix it though!). Our biggest concern would be losing the covers, or being clumsy and dropping it, etc. We are adding a half-title & extra back page in the hopes that if folk lose a page, or one of the covers, the "throwaway" pages we're including will help out.
We recommend the hardcover for legacy and durability. The line of spines on the shelf is cool too. The coil-bound will have to be handled more carefully, but the price is more reasonable. And if y'all have a good app for filling in PDF forms, or want to use your own bullet journal or other journals outside the UF system with some of the UF exercises, the PDF can be used instead of a paper planner (or y'all can print out some of the exercises and use them).
Y'all can help with future planners
We would love more feedback to continue to tweak the content. What works? What do you hate? What do you find that you neglect & never use, or you forget to use? What's wasted space? How can we make it better? How can we make this more fun?
Play with your& planner, experiment with it, but most of all — USE it. Do with it whatever you'd like — please let us know what happens & how it works out so we can improve it next year. Life is a work-in-progress, so is a life-journal.
We would love photos of how folk are using it, too!
Many thanks & blessings,
Criss Xes
Tips for using your United Front Ship's Log Planner
Setting up your& journal: y'all can start playing with it as soon as y'all get it. The System Safety Plan, Quarterly Plan, and setting up the year in your& planner can keep y'all busy planning for 2022 before it even starts.
Please see the free United Front: Ship's Log Planner Course for tips on planner set-up, additional downloadables/printables and exercises to help out! This way we only have to update this info in one place :)
The Final Index - 2023
2022 in Review 25
2023 in Review 311
April 98

April in Review 121
April Sensor Log 96
Plan Your& April 97

Articles of Agreement 14
August 194

August in Review 213
August Sensor Log 192
Plan Your& August 193

Better Spoons: Loving What Y'all Do 322
Contents vi
Daily Pages Key 2
December 286

December in Review 309
December Sensor Log 284
Plan Your& December 285

February 54

February in Review 73
February Sensor Log 52
Plan Your& February 53

Goals, Missions, Milestones 320
Ideas to Fill Daily Pages 2
January 28

January in Review 51
January Sensor Log 26
Plan Your& January 27

July 168

July in Review 191
July Sensor Log 166
Plan Your& July 167

June 146

June in Review 165
June Sensor Log 144
Plan Your& June 145

March 76

March in Review 95
March Sensor Log 74
Plan Your& March 75

May 124

May in Review 143
May Sensor Log 122
Plan Your& May 123

Meeting Agenda Ideas 321
Monthly Analysis 20
Monthly Sensor Log 20

Internal Divisions — Helm to Stern 21
Outer Divisions 20

November 264

November in Review 283
November Sensor Log 262
Plan Your& November 263

October 238

October in Review 261
October Sensor Log 236
Plan Your& October 237

Other Planner Features 24
Quarterly Plan 2023 16–19
Quarterly Plan 2024 316–319
Selves-Care Menu 13
Selves-Help Ideas 320
September 216

Plan Your& September 215
September in Review 235
September Sensor Log 214

System Safety Plan 4

"Safe Water Mark" 6
Batten the Hatches 12
Checking for Barnacles 9
Crew Equipment Review 5
Foul Waters 10
Navigating Dangers 11
Staying in "Ship Shape" 8
Your& Ship's Missions 7

System Trust (Break/Fix) 15
System Vision 1
The 5 Principles of Multiplicity 323
United Front Process Overview 3
Weekly Layout Key 23
Weekly Log 24
What is United Front? 2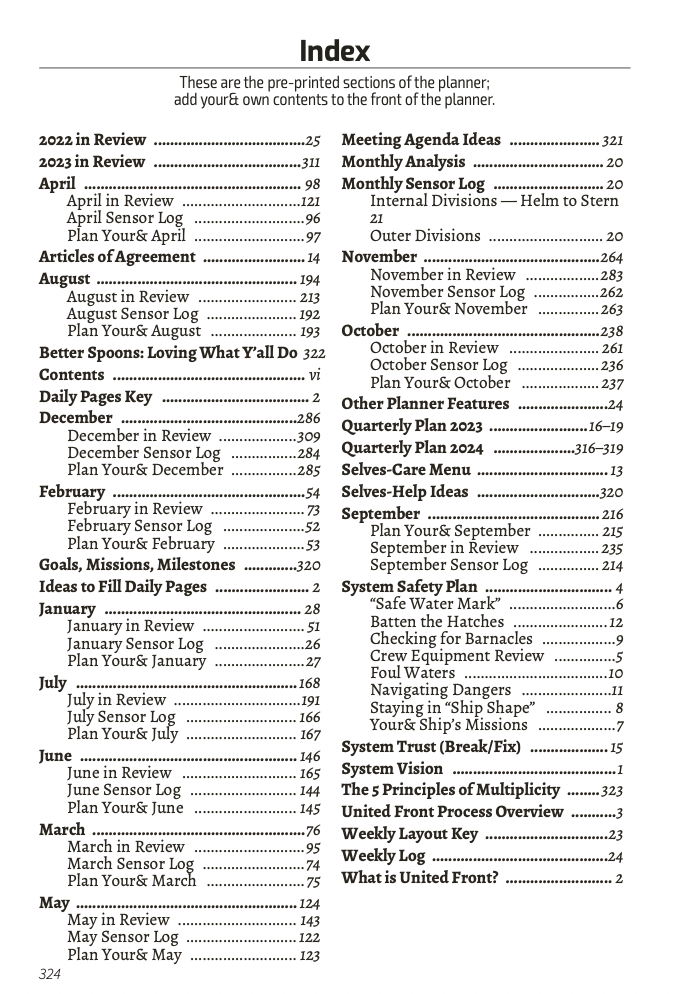 Change Logs
2023 Planner (compared to 2022) & Undated 2 planner
Added 2 segments to the Sensor Log: Treasury -> Stewardship and Bridge -> Targeting, including adding descriptions for these new segments in the instructions.
Added back in many of the cheatsheets from the 2021 planners.
Renamed House Rules to Articles of Engagement to match United Front books.
On the daily pages on the dated planner, lifted the date so there's space above the timeline.
In the dated planner monthly view, made the weekdays across the top lighter & smaller to facilitate those who wish to change the arrangement of the 2-page month view.
In the Undated planner, added a number for each "week" in the planner thus 1-54, in case anyone wants to log something by 7-day bundles, and to help folk track how many "weeks" they have left in their planner.
Fixed various errata from the 2022 version. Hopefully have not introduced NEW errata in the 2023 & Undated 2 versions :)
2022 Planner (compared to 2021) & Undated 1
First time the Ship's Log has an undated version (there had been undated versions of the Passionizing Planner, and there's still one available for sale).
a 2-page month-view spread to oversee your month. The former Monthly Review prompts (Accomplishments & Lessons) are now at the bottom of this spread.
The undated planners have only a blank 6 "week" by 7 "day" grid without labels to use as desired.
There's a new design for the <Month> in Review page: there's lines & prompts for Reflection, Gratitude & Looking Ahead.
There's an unlined note page on the left side of the Month in Review — folk can draw, add their own bullet-journal inspired tools for the month, use it as a place for additional notes, to attach post-its or cheatsheets to their planner, etc.
Overhauled monthly assessment tool that combines the Life & Ship assessment tools from 2021 into a simpler 1-page tool with redundancies removed, and completely re-written instructions. The 2021 dual assessments were taking us a long time to complete each month, and we noted some redundancies — so we completely reimagined the 2 life assessments that were in the 2021 planner, embracing the "body as a spaceship" idea, and the fact that plural systems are working as a group. Now there's one combined assessment for 2022.
Almost all of the cheat-sheets and other tools have been removed. this planner is already larger than last year even with them removed. Stay tuned for more about where these are going (There is a workbook in progress, but since it's not ready most of these were added back to the 2023 planner).
The instructions are much more terse and abbreviated. The online course will have to bear the weight of longer explanations. Again, to keep the planner size reasonable something had to be moved out of it.
A more complete safety plan in the planner, matching the online safety plan course (and the errata listed below taken care of; plenty room for new errata).
A long list of positive ideas for (generally inexpensive or no-expense) activities to use for goals, rewards, or to inspire your System Safety Plan Crew Equipment Review in the back of the planner.
Squeezing in a couple more lines for notes on the weekly notes pages. Changed "A-HAHs" to "Notable" (to pull out a-hahs or highlights of a meeting or notes).
Added a half-title page. This is a relic from the days before books came with covers, a "junk" page that might get worn, torn, or fly loose or be used to bind the book into a cover. This gives an extra front page for notes, cheatsheets, doodles, headmap or list of residents, etc. Whatever y'all wish.
Added an extra page at the back of the planner — same reason as the half-title page. These are numbered, and have a little "blank on purpose" disclaimer". The hardcover or a perfect-bound softcover would have this page anyway. The coil-bound version would not, and the coil/spiral is more likely to lose pages, so we think this is a vital addition for those who want the coil version.
And features that will always remain in the planner:
NO holidays. Pick your own, or don't put any in the planner. We don't want anyone seeing well known trigger words in their planner. You like a holiday, you add it. This also makes it more friendly for folks outside the US or non-mainstream belief systems.
System safety plan will be embedded in the planner so that y'all always have it handy.
Numbered pages.
Create your own table of contents for your content in the front of the book; there is an Index for the built-in features.
Flexible daily pages with ways to track time, meals, moods/habits, progress, wordcount, etc.
Meeting notes each week for system meetings, external meetings, class notes, or therapy appointments
Monthly assessments and other worksheets for planning
Errata
Ship's Log 2022-1.00
In the dated planner, on the monthly spread for October, October 31st is accidentally greyed out. Oops.
p. 312 (dated) or 316 (undated) - The instructions aren't correct, but more importantly, the months should be July, August, September.
Ship's Log 2021-1.00
Extra notes pages for the coil-bound. We've always found the extra blank pages added to a perfect-bound softcover or hardcover book at the start and end to be useful — the coil bound gets right to business with no added leading or trailing pages. This is bothersome in many ways, as there's no title-page or index buffer between the cover and the book, but also less extra space for adding your own "stuff" to the book at the start and end, which we've always used. Next time we create a coil-bound version we'll add bonus "Notes" pages to fill this purpose, and maybe a half-title page in the front of the planner (industrial-age printing press books used a half-title page before the full title page in case the cover of the book was lost, so there was an additional protective page before the real title info). To make it easier on us, these changes may be in all the versions.
We want to unbold the abbreviations for the meal/exercise track/plan section so that it's easier to repurpose that section if someone doesn't use it that way (i.e. less obtrusive yet).
When we changed the page heading font to match other United Front materials, we may have gone a little overboard, and we will make the font size for dates in the daily pages smaller, and shift some of the whitespace a bit. It ended up rather close to the top of the page in the printed versions, and we like to write in the margins & put holiday names around the date.
page 8

"Contents of safety plans…" typo.
Change instructions to point to full instructions for System Safety Plans in United Front: Recruits — available in the free sample as well or you can use the latest materials & instructions for free at the online course here.
Middle of the page the line should be Developing a Wellness Toolbox - replace Toolkit with Toolbox and instructions should direct users to brainstorm for a larger list on a separate sheet to copy items from into various sections of the safety plan. This is now the Crew Equipment Review in the online course & downloadable worksheets.
On line for Daily Maintenance Plan: Reminder List "Quarterly" is misspelled.
Middle of the page the line should be When Things are Breaking Down or Getting Worse — Batten the Hatches. Signs… i.e. the page title was accidentally omitted.
Last line of "Crisis Plan" paragraph, "we are not a laywer" should be "lawyer". We are neither a lawyer nor a laywer. Not a typist either.

page 10 - missing closing parenthesis ")" after "page 39".
page 12 - "maritime" pilot. Oi. We did run a spell check. Imagine how many typos there would have been if we hadn't! We blame InDesign.
page 18 - spelling/typos: car maintenance schedule
page 20 - missing (m) marker on &/or addition of and italicization of following entries: prudence (m), forgiveness (m), humility (m), modesty (m), self-control (m). Missing (c) marker on &/or addition of and italicization of following entries: integrity (c), vitality (c).
Pages 23 & 25 - "Personal Development: Relationship…" (spelling typo)
page 150 - "House Rules" should really be "Articles of Agreement" in alignment with United Front books. References to the page should also be changed (p. 31 & 107 and the index on 313).
---
Legacy Notes
The Final Index - 2022
2021 in Review 23
2022

2022 in Review 309
Quarterly Plan 2022 14–17

2023

Quarterly Plan 2023 310–313

April 96

April in Review 115
April Sensor Log 94
Plan Your& April 95

August 192

August in Review 211
August Sensor Log 190
Plan Your& August 191

Contents vi
Daily Pages Key 2
December 284

December in Review 307
December Sensor Log 282
Plan Your& December 283

February 52

February in Review 71
February Sensor Log 50
Plan Your& February 51

Ideas to Fill Daily Pages 2
January 26

January in Review 49
January Sensor Log 24
Plan Your& January 25

July 166

July in Review 189
July Sensor Log 164
Plan Your& July 165

June 144

June in Review 163
June Sensor Log 142
Plan Your& June 143

March 74

March in Review 93
March Sensor Log 72
Plan Your& March 73

May 118

May in Review 141
May Sensor Log 116
Plan Your& May 117

Monthly Analysis 18
Monthly Analysis Key 20
Monthly Sensor Log 18

Internal Divisions — Helm to Stern 19
Outer Divisions 18

November 262

November in Review 281
November Sensor Log 260

Plan Your& November 261
October 236

October in Review 259
October Sensor Log 234
Plan Your& October 235

Other Planner Features 22
References 314
Selves-Care Menu 13
September 214

Plan Your& September 213
September in Review 233
September Sensor Log 212

System Safety Plan 4

Batten the Hatches 12
Checking for Barnacles 9
Crew Equipment Review 5
Foul Waters 10
Navigating Dangers 11
Safe Water Mark 6
Staying in "Ship Shape" 8
Your& Ship's Missions 7

System Vision 1
The 5 Principles of Multiplicity 315
United Front Process Overview 3
Weekly Log 22
Weekly Log Key 21
What is United Front? 2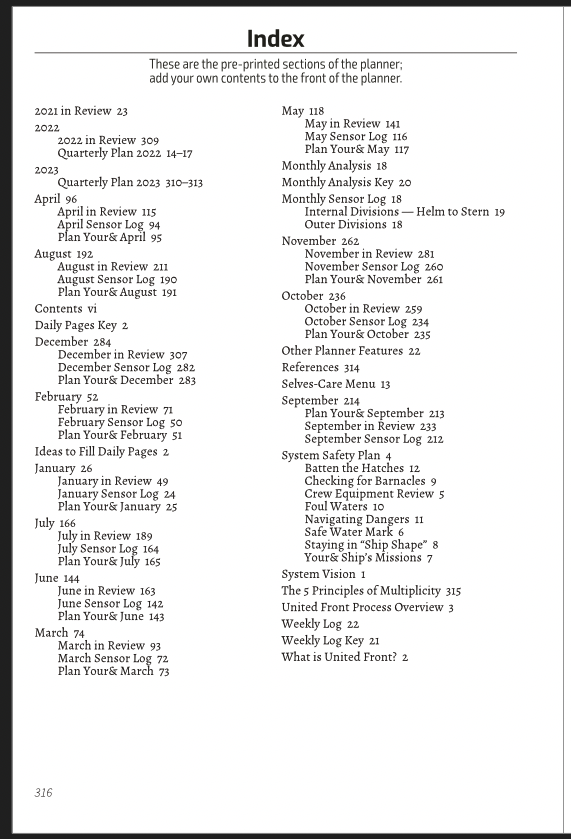 The Final Index - 2021
5 Principles of Multiplicity 311
360° Life Assessment Satisfaction Survey 32
360° Life Assessment™ Detail 33
2020 In Review 40
2021 In Review 304
Annual Planning 14
April 107
August 191
Batten the Hatches 13
Better Spoons: Loving What Y'all Do 278
Better Spoons: Panic vs. Passion 86
Broadcasting Honorable Mentions 66
Character Strengths & Virtues (CSV) 21
Communication Ideas 66
Communication Mediums 66
Daily Pages Ideas 6
Daily Pages Key 6
December 279
Example Values 20
Expectations and Needs at Various Stages 190
February 67
Foul Waters 11
F-Words: 9 Panic Reactions, The 258
Goals, Projects, Tasks 170
"Good Thoughts" Journal Prompts 234
Gratitude List 42
Group Affirmations 234
House Rules 150
Inner World Communication Tips 66
Introduction to Shared Values 21
January 43
January 2022 299
July 171
June 151
L & F Words 258
Life List 14
Listening 66
Mapping Exercises 126
March 87
May 127
Meeting Agenda Ideas 106
Month In Review 30
Monthly Layout 30
Monthly Layout Key 31

Monthly Life Assessments 30, 32
Month, Plan Your 30
Navigating Dangers 12
November 259
October 235
Plan Your Month 30
Positive Selves Talk 234
Quality of Life: the 7 L-Words 258
Quarterly Plan 2021 16
Quarterly Plan 2022 306
References 310
Reparenting, Expectations and Needs at Various Stages 190
Reparenting Ideas 190
Roles & Goals, external 24
Roles & Goals, internal 28
Roles: Value & Goal Inventory 30
Roles & Values, external 22
Roles & Values, internal 26
"Safe Water Mark" 9
Selves-Care Menu 39
Selves-Care Menu Intro 37
Selves-Help Ideas 170
September 215
Staying in "Ship Shape" 10
System Mapping Ideas 126
System Rewards 298
System Safety Plan 8
System Trust (Break/Fix) 214
System Vision 7
United Front 6
United Front Process Overview 5
United Front - System "Ship" Satisfaction Survey™ 32
United Front System "Ship" Satisfaction Survey™ Detail 35
Values, Example 20
Values, Introduction 21
Weekdays 37
Weekly Layout 37
Weekly Layout Key 38
Weekly Planning 37
Wishlist 15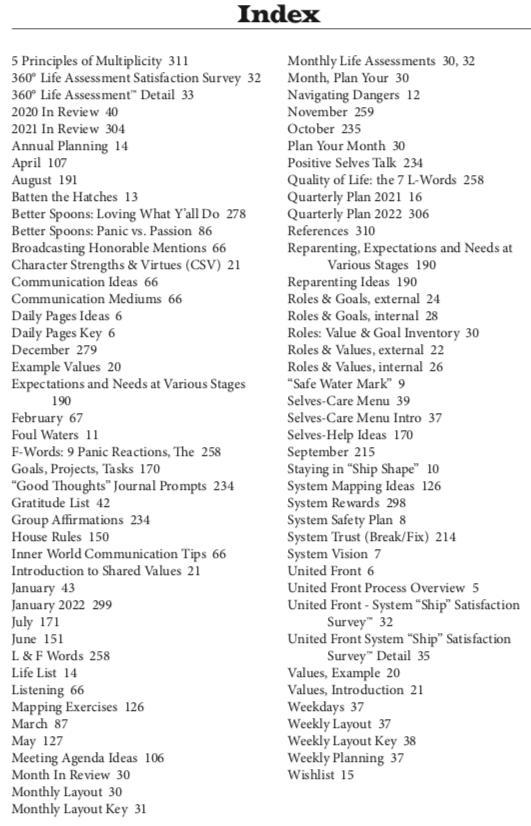 References
These books, articles, papers, etc. influenced the work this planner is based on. Links below are affiliate links to Amazon, we will get a minor kickback, though it will not change your price.
Allen, David, 2001. Getting Things Done: The art of stress-free productivity, Penguin Books.
Brand BL, Myrick AC, Loewenstein RJ, Classen CC, Lanius R, McNary SW, Pain C & Putnam, FW, 2011 (December 5). A Survey of Practices and Recommended Treatment Interventions Among Expert Therapists Treating Patients With Dissociative Identity Disorder and Dissociative Disorder Not Otherwise Specified. Psychological Trauma: Theory, Research, Practice, and Policy. Advance online publication. doi: 10.1037/a0026487.
Byrant D., Kessler J., & Shirar L., 1992. The Family Inside: Working with the Multiple, W. W. Norton & Company, Inc.
Carson, Rick; 2003. Taming Your Gremlin: A Surprisingly Simple Method for Getting Out of Your Own Way, HarperCollins Publishers.
Covey, Stephen R., 1989. Seven Habits of Highly Effective People, The: Restoring the character ethic, Simon & Schuster, Inc.
Covey, Stephen R., 1994. First Things First: To Live, to Love, to Learn, to Leave a Legacy, Simon & Schuster, Inc.
Hallowell, Edward M., M.D., 2006. CrazyBusy: overstretched, over- booked and about to snap: strategies for coping with a world gone ADD, Ballantine Books.
Fredrickson, Barbara L., 2009. Positivity: groundbreaking research reveals how to embrace the hidden strength of positive emotions, overcome negativity, and thrive, Random House, Inc.
International Society for the Study of Trauma and Dissociation, 2011. Guidelines for treating dissociative identity disorder in adults, third revision. Journal of Trauma & Dissociation, 12(2): 115–187 (as accessed on their website late 2018).
Kezelman C.A., Stavropoulous P., 2019. Practice Guidelines for Clinical Treatment of Complex Trauma, Blue Knot Foundation.
Luban, Ruth, 1996. Burnout: Keeping the fire (audio & guidebook)., Learn Incorporated.
Messina, James J., 2009. Compassion Fatigue Presentation http://revx .me/5 (PowerPoint Presentation), accessed on 12 August 2009.
Messina, James J., 2009. Preventing Burnout http://www.livestrong .com/article/14719-preventing-burnout/, accessed on 03 August 2009.
MindTools.com, 2009. Recovering from Burnout http://www .mindtools.com/stress/Brn/CopeWithBurnout.htm, accessed on 15 August 2009.
Moran, Victoria, 1999. Creating a Charmed Life: Sensible, spiritual secrets every busy woman should know, HarperCollins Publishers.
Putnam, Frank W., 1989. Diagnosis & Treatment of Multiple Personality Disorder, Guilford Press.
Richmond, Lewis, 1999. Work as a Spiritual Practice: A practical Buddhist approach to inner growth and satisfaction on the job, Broadway Books.
Shwartz, Richard C., 1995. Internal Family Systems Therapy, Guilford Press.
Spira, James L. (editor), 1996. Treating Dissociative Identity Disorder, Jossey-Bass Inc.
Tolle, Eckhart, 1999. The Power of Now: A guide to spiritual enlightenment, New World Library.
Wattles, Wallace D., 2007. The Science of Success: The secret to getting what you want (The Science of Getting Rich, The Science of Being Well, The Science of Being Great), Fall River Press.
1 Don't forget to look for Lulu coupons! ⇑
2 Don't forget to look for Lulu coupons! ⇑
3 Don't forget to look for Lulu coupons! ⇑
4 Don't forget to look for Lulu coupons! ⇑