Blog
The 8-track in our head.
July 19, 2011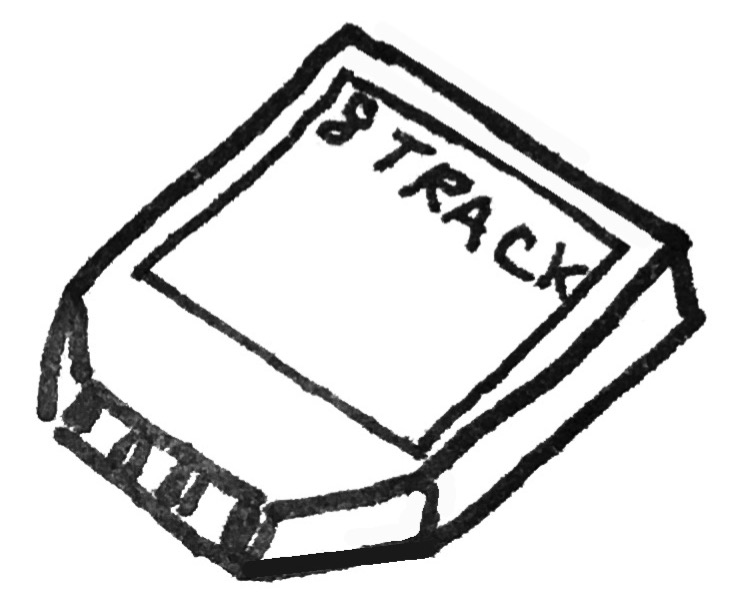 This article does NOT refer to RA/SRA/MC programming. But family and cultural programming or messages we repeat to ourselves in our head, echoes of trauma or verbal abuse, etc.
When people hurt you over and over in the same way, you build up some automatic programs against that type of hurt.
These automatic programs are like those old 8-tracks &mdash: a continuous-loop that can play over and over. You just choose which track to play and it starts wherever the tape's at, and it plays over and over until you switch tracks.
I have a real problem with the idea of conditional friendship &mdash: and conditional love by extension. Those people who would place conditions on whether they could like me, or love me, from parents who told me what I had to do to earn their love to friends who were only my friends when no one else was around.
I was 13 &mdash: and my best friend of 5 years turned her back on us. "I still want to be your friend, but only when no one else is around," she said.
I stopped being her friend. I had a crush on her for years. I considered her my best friend and stuck around when she'd name anyone but me her best friend. We used to sleep over each others' houses and talk to each other in the manual alphabet at night. I just loved her. Unconditionally. Except for that. I couldn't love her after she played the "only when other people aren't around" card. She wouldn't stand up for me, she wouldn't stand by me. She would rather hang with the judgmental jerks even though she knew I was right and they were wrong.
But she wasn't the first, nor the last, to play that conditional acceptance card. She's not responsible, but the episode with her created the 8-track in my head with the passive-aggressive programming. I would rather cut my fingers off than pick up the phone to call her and talk to the girl I loved.
When I was in the middle of some of my toughest self-work, I had a lover who told me that he didn't want one of my subsystems around when he was there. He banished them from his presence. Yeah, they'd pissed him off because they were young, raw, disorderly, reactive &mdash: they were new-to-us and hadn't drunk the United Front prototype kool-aid yet. But his conditional acceptance drove the nails in the coffin of our relationship. We couldn't get over it. Those girls, wearing the mask of their subsystem veil, had been perfectly acceptable. But once they were distinct and clearly all their screwed-up splendor, reactive after being revealed, and didn't just fall into line with the usual Crisses behavior, they were second-class citizens.
Anything that happens that reminds us too much of that &mdash: it's ok when we do something sometimes, but not these other times, if we do it then we're not acceptable anymore &mdash: is a sure trigger to turn that 8-track tape to the stubborn pissed-off passive-aggressive channel.
It's like a certain type of cognitive dissonance changes the tracks in our brain. We don't LIKE that track. We don't like who we are, what we become, when that passive-aggressive fragment gets tacked onto our personality(s). It's an unthinking program, one that's been played less and less the better we've gotten, but that doesn't mean it can't get triggered. The stronger the cognitive dissonance in the right form, the more likely it is to get triggered. That plus our stubborn streak can lead to a world of pain for ourselves and others.
I don't want it to be triggered. But as I've said things that trigger it are in that conditional acceptance dissonance area.
---
My internal landscape is helpful because we actually found a representation of this 8-track in our head, that was plugged into our control panel. Someone tossed it in a bottom drawer. It might find its way back into our control panel. But we know better than to try destroying it in our internal landscape. It's a fragment, or perhaps 8 fragments. The same incident caused us to be quiet and observant in groups, to tend to like to be with very small groups of people or one person at a time, to be extremely leery of being part of any "in crowd" since they might choose to exclude me or cause people to feel that being my friend would exclude them from that crowd. [Edit 5/28/2017 &mdash: and there's more where that came from, which will be in our podcast episode on Conformity that airs tomorrow! ]
It's funny how looking at something in the internal landscape, remembering its functionality, considering its causes, can save you hours at the therapist's office — if only you know what to look for.
To the people who pulled that crap on me... I didn't deserve that. That's really cruel. It started in kindergarten or first grade. How dare you be such pricks. Why did you hurt me like that, so young? It makes me angry. There's an angry streak because of it...another track on the tape, perhaps?
---
<< | Index | >>
Comments:
---
---
Leave a comment