Crisses
Torry
<< Isabeau New | Who's Who | Naomii New >>
---
Torry (from lisped "I'm Sorry")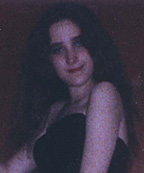 Vitals:
Female sprite, usually about 6 years old. She doesn't really know much about what she looks like, but we have seen pics which remind us of her, and the hair is usually wild and curly and long and very platinum blonde. 4" tall with butterfly wings and little feelers on her head.
Distinguishing Traits:
Often bubbly, mischevious, and with varying kinds of really bad humor. Lighthearted, usually.
Favorites:
Songs: Going Down from Hair, The Devil Went Down to Georgia by (is it) Everly Brothers, The Trial from The Wall by Pink Floyd and a bunch of other silly mahem-causing, sardonic, sarcastic, silly music. also, perhaps Mayhem, Maybe by Jethro Tull.
Color: Lollypop.
---
There seems to be links to Torry as Erin/Aliessa's first remembered incarnation. Right now she enjoys a separate awareness/split from the other incarnations. A sprite who lives in here, her name derived from her lisping "I'm Sorry". She is closely related to my "inner child". In fact, so closely related, they might very well be one and the same (if one needs a "normal" reason for her existance). She is normally childlike, impatient, bubbly and cheerful, curious or inquisitive, apologetic (heh), and flighty. No real memories to speak of. Occasionally she surprises us and becomes exceptionally thoughtful, insightful and mature.
---
You gotta be kidding...my own page....oooOooh, I can't wait to decorate it...how many pictures can I put here??? :)
---
<< Isabeau New | Who's Who | Naomii New >>
---
See Also