Crisses
Main Fronts of The Crisses
We do not expect people to remember this stuff, but this is basically a shortcut "highlights" list rather than stare at a hundred names. Because we're LegoCrisses, we can also have a tough time pinpointing people because the Front is a blend of many components at any given moment with components being removed or added on an as-needed basis. This one's skills with that one's moods with this other's interests. It can get messy when we get blendy, so we aren't always 100% certain who we are all the time.
We are much more likely to front as full individuals in a plural-safe environment.
Gender presentation is neutral unless otherwise specified.
Abridged Headmap
We have a new therapist who is interested in a headmap to help keep track of who we're talking about or whom is fronting in therapy. So we created an abridged map that includes our frequent fronts and the folk we're most likely to be dealing with or discussing in therapy. So here's a totally abridged/edited map.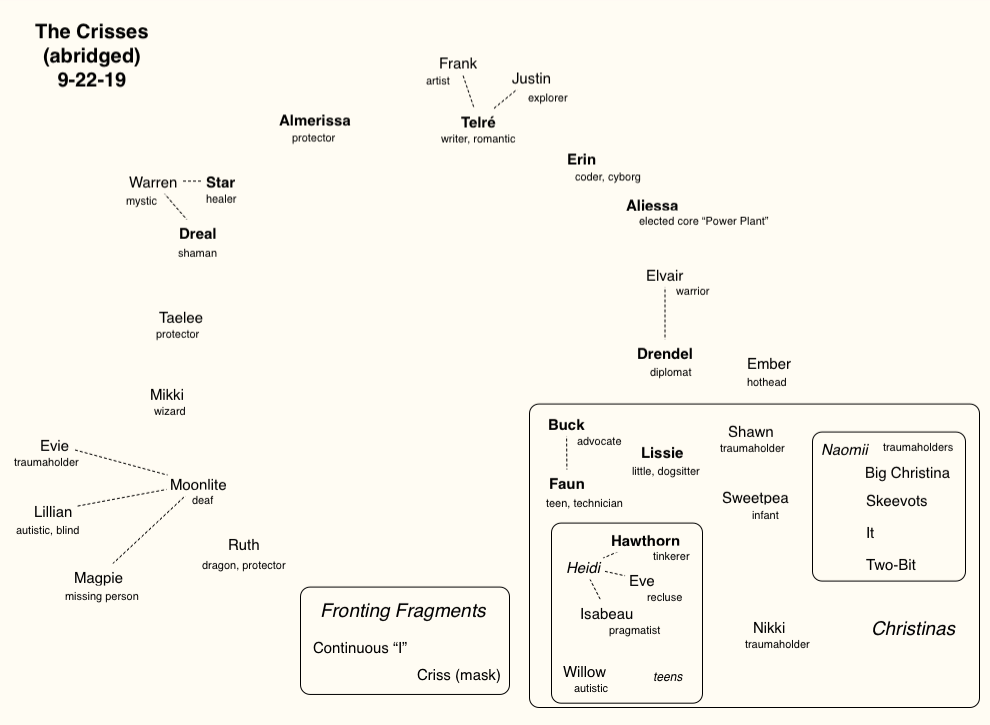 Fronting Fragments
Criss (mask) - We all answer to "Criss". Hence "The Crisses". However, this is the mask we all use when fronting in singular-normative society. Often it gets stuck, and kinda blends any stand-out traits like accent or facial tension changes so that our switches are less notable. Folk will often mistake us as being Criss, thinking that's one of our internals, and wondering when they'll meet anyone else, when the truth is we're constantly switching and blending behind the mask so they've actually "met" many of us and just don't know it.
Continuous "I" - shared point of view consciousness/awareness fragment that often attaches to the fronter but sometimes either takes off on its own (in which case we brown out, having lost our interfaces to the body's sensory input), or detaches from the external interface to follow someone either in the internal world or an out-of-body excursion such as shamanic journeying (in which case we leave the body in a meditative state as a rule). This sensory interface fragment is hooked into our logbook and memory banks, so what we all are aware of or can remember generally follows this fragment. Folk can go off on their own and share information with the group from their experiences, but not full-sensory, full-memory, or first-hand like we can through Continuous "I". This fragment exists to help us blend in and remember things so that we can interface with a singular-normative world "seamlessly" even though we're constantly shifting and changing who is fronting.
Main Fronts (often cycles through other folk for days, weeks, or months at a time)
Secondary Fronts
Erin - hardcore server tasks, debugging, programming, difficult driving conditions, or anything having to do with airplanes/flying. Ex-military pilot background.
Aliessa - public relations, large events, magnetism, intimacy, getting "dressed up", makeup, dresses, etc. when she gets the chance. Prep for being on camera or stage. Flirty & forward. Ultra-femme,
Drendel - public relations, large events, diplomacy, organizing and running events, managing expectations in crowded places, managing events and delegating tasks. Femme.
Tertiary Fronts
Others front as well, but not as regularly as the above.
---
See Also